Product Information
The Magnifier
The First Truly Affordable Full Screen Magnifier Software for Windows
The Magnifier for Windows 10 / 8.1 / 8 is now available! (32 & 64 bit)
Download The Magnifier demo and use its Licensing Manager to purchase a license
The Magnifier software supports from 1.0 through 40 times magnification (in 1/10th increments). It can operate as a Full Screen magnifier or Area magnifier and can be controlled from the keyboard or mouse. It also includes numerous other features that make it a powerful and useful utility! This is truly the first affordable, full screen computer magnifier that everyone has been waiting for!
---
See "The Magnifier" in action (37 sec.)
---
Screen shots (click for full size image)
The Magnifier as a Window, basic operation, 2x magnification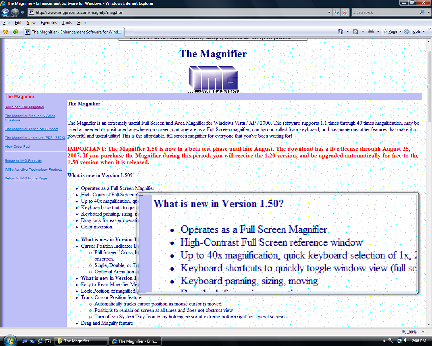 Click for Full Size image
---
The Magnifier in Full Screen operation, Reference window shown, 3x Magnification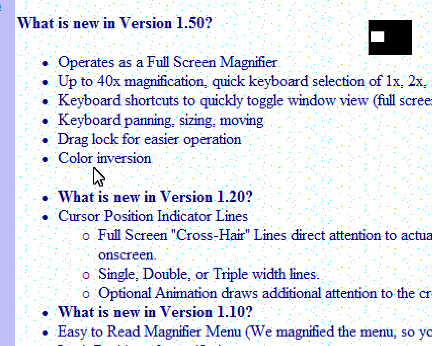 Click for Full Size image
---
The Magnifier as a circle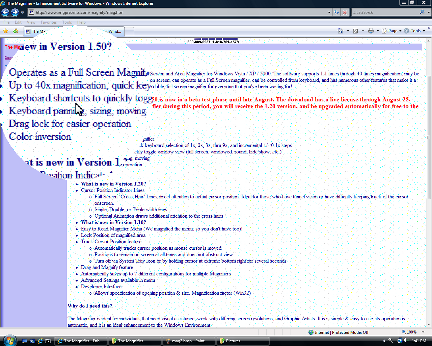 Click for Full Size image
---
What Users are saying...
"you've got a great product here...[All of us are] getting older and 8 point font is just too small to read. Your product neatly, cleanly fills a great need, as conveniently as any I've seen."
"Brilliant, thank you for making this product...it doesn't slow the system down and works really well [with my new Vista system]..."
"I really like this product, it is really first class"
"Well, I can sure see that!" (at 3x magnification)
"I love the product even after a few minutes of use."
"Thanks for making an excellent application - so affordable and straightforward to use."
"The Magnifier has been a life saver for me."
Why do I need this?
The Magnifier is ideal for individuals that need visual assistance, work with differing screen resolutions, do presentations and/or training, and Graphic Artists. It is simple & easy to use, its operation is automatic, and it is an ideal enhancement to the Windows Environment.
How do I use it?
Load it, position it, and reference it as needed - it is that EASY! You can Zoom (full screen / window toggle) with Alt-Z. You can view (hide / show toggle) the Magnifier with Alt-S. Invert colors (toggle) with Alt-I. Toggle cursor display with Alt-C. Select 2x magnification with Alt-2, or 3x with Alt-3. And those are the basics - there are many more useful and advanced features... For a more detailed list of keyboard shortcuts, and other user options, click here
How does the demo work?
The demo is a "limited working copy for evaluation" which means you can use it for up to 1 hour at a time, then you have to restart it. It will continue to work up to 100 hours total to let you evaluate how it works for you. Then it stops working unless you purchase it.
If you want to try before you buy, please print this great
Hot-key Shortcut Menu
, then
Download the Magnifier
software.
How does the licensing work?
The license is a "personal license" which means you can use the license key and registered serial number for unlocking any of the available downloads for the current version of The Magnifier. If you have a laptop running Vista and a home PC running XP, a single license key will work for both (after installing the appropriate download of The Magnifier). You may also install and license on a USB drive (using the appropriate download) using your license key and serial number.
How do I purchase a license?
Download the software, make sure it works for you, then click "Purchase License Now" in the IMG License Manager. It's that easy! The downloads available on our website are the actual software products. If unlicensed, then they are run-time limited, and will shut down in about an hour (and can be restarted up to 100 times). When licensed, they are not run-time limited in any way.
The Story of "The Magnifier" (How this product was created)
If you've read this far, then you might be interested to hear how this product came to be. Originally there was a magnifier panel on our on-screen keyboards (now the My-T-Soft family of on-screen keyboards), and we were told by some people that this was all they wanted - a magnification tool. So in 1997, we spent some time and released the first "windowed" magnifier. After some updates in 1998, the product cruised along for many years, and we often had questions about "full-screen magnification". When Microsoft released Windows Vista in 2007, they included a magnification API for the first time, and we felt the time was right to revisit the product and add in features and capabilities culled from user suggestions and available technology - the result is the 1.50 release, which includes everything everyone has asked for. The Magnifier delights many users, and many find it invaluable. This is a product created by customers, a great utility, ideal for many, truly affordable, and worth the download to see if it is right for you.
If you want to try before you buy, simply Download the Magnifier software - when unlicensed, it operates as a fully functional demonstration version, and is easy to license directly on your PC.
Software Requirements
Windows 10 / 8.1 / 8 / 7 / Vista / XP / 2000
Compatible / Safe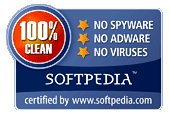 Works with ALL Windows applications.
Clean / safe - certified and awarded the "100% CLEAN" Award by SoftPedia - no viruses, malware, spyware, trojans, backdoors, etc.
Note: All of IMG's software is built for our customer's needs and requirements, digitally code-signed, and would never include items that would adversely affect end-users. However, for individuals new to IMG and its software, this type of verification may be helpful. If so, it may also be helpful to see some of IMG's Customers