IMG Partial Customer List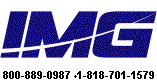 OEM Partners - Companies that include IMG Software with their equipment or products
End-Users - Companies that use IMG Software

Who uses IMG's Software?
Since 1995, IMG's customizable on-screen keyboards and pointing device utilities have been delivered by thousands of OEM equipment and systems manufacturers, software developers, integrators, and VARs, and used by hundreds of thousands of end-users in corporations, agencies, and organizations worldwide.


IMG's products run 24 hours a day, 7 days a week, on some of the most advanced and critical systems in the world.
Perhaps thats why we're considered The World Standard in Customizable On-screen Keyboard Utilities.
3M
ABB
ADESA Auctions
ADP
Aeroport de Montreal
Akzo Nobel
Alabama Power
Alberta Gaming & Liquor Commission
Alcan
Alcoa
Allergan Pharmaceuticals
Allstate Insurance
Alliance Press
American Hospital Association
AMGEN
Andersen Corporation
Apotex Pharmaceuticals
ASPE
Astrazeneca International
Assystem E & OS
AT&T
Augusta div Potash Corp
Auma Riester GmbH
Austin Energy
Australia Department of Employement and Workplace Relations
Australia Department of Sustainability and Environment
Autoliv Asp
Baker Hughes
Bank of America
Barber Foods
Basingstoke & North Hampshire Hospital
Bath Iron Works
Baxter Healthcare Corporation
Baxter BioScience
Bay State Medical Center
Bechtel
Bedford Fleischwaren
Belfast Royal Hospital and Health Trust
Biery Cheese
Blount
Blue Cross Blue Shield
Blue Man Productions
BlueScope Steel
BNSF Railway
Boeing
Boise State University
Borgess Medical Center
Bosch
Bristol Meyers
British Car Auctions
British Columbia Ambulance Services
Brookhaven National Laboratory
Bryn Mawr Rehab Hospital
BSP Pharmaceuticals
Calgary Police
Campbells Soup
Canlyte
Caribbean Refresco
Carle Place Fire Department
Carletti A/S
Carrier Corp
Casino Queen
Casio
Castrol
CDC
CEA - Atomic Energy Commission
Cerner Corporation
Chemical Bank
Chevron Texaco
Chicago Trading
Childrens Institue
Chiron S.r.l.
ChoicePoint
Cincinnati Insurance Companies
Citibank
Clifton Police Department
CMP Publications
Coca Cola
Colorcon
Columbia House Company
Columbia University
Consolidated Biscuit
Continental Airlines
Cooper Tire
Costco
Cranford Fire Department
CSC
CSX
Cumbria UK Fire Services
Dairyland Healthcare
Danfoss A/S
De Koninklijke Schouwburg
Dean Witter Discover
Degussa
Dendreon
Disney
Domtar Paper
Draeger Medical
Draxis Health
Driscoll Children's Hospital
Dunlap Industries
Dupont
Durham VA Medical Center
EADS Deutschland
Easter Seals
Eastman Kodak
E.C. Styberg Engineering
EDS
E-Force Tennis Raquets
Ekco Products
ElectroHeat Sweden AB
Eli Lilly
Environment Canada
Experian
Exxon Mobil
Fabrima Maquinas Automaticas - Brazil
First Rate Exchange Services
First ScotRail
Fluid Air

Fluke Corporation
FoodBrands Corporation
Foran Spice
Ford Motor Company
Freightliner
Frigoscandia
GE Bioscience
GE Global Research
GE Healthcare
Geico
Genentech
General Electric
GE Aircraft Engines
GE Automation Services
GE Digital
GE Industrial Systems
GE Medical Systems
GE Supply Company
GE Transportation Systems
General Mills
General Motors
Genesta
Georgia Pacific
Georgia Regional Hospital
Germany's Defence Ministry
Germany's Ministry for Information Management
Gevalia Kaffe
Givaudan Flavors
Gold Kist
Goodrich Sensor
Goodwill
GSK (Glaxo Smith Kline) Pharmaceuticals
Gulistan Carpeting
Habitat for Humanity
Hamilton Sundstrand
Harpo Studios
Herbo Chemosan
Hershey Foods Corpration
Hilton Hotels
H.J. Heinz Company
Hoffman LaRoche
Honda of America
Honda of Canada
Honeywell
Hormel Foods
Huffman Corp
Husco Intl
IBM
iCAD
Idaho Power
ImClone
Indiana State Police
Industrial Systems
Intel
International Paper
Intrepid Sea Museum
Intuit
Isola Group SarL
J D'Addario
J Polep Distributing
Jennie-O Turkey
JLT Mobile
Johns Manville
Johnson & Johnson
Just Born Candies
Kaiser Permanente
KCBS/KCAL TV
Keystone Foods
Kimberly-Clark
Kodak
KORG Inc
Kraft Foods
Leon County Sheriffs Office
Lighthouse Imaging
Litton
Lockheed Martin Space Systems
Lodi Memorial Hospital
Los Alamos National Laboratory
Lucent Technologies
Make-A-Wish
Martha Jefferson Hospital
Massachusetts General Hospital
Mattson Technologies
Mead Johnson Nutritionals
MeadWestVaco
Meco
Medical City Dallas Hospital
Medical University of South Carolina
Medtronic
Merck Pharmaceutical
Mercury Marine
Meyn Food Processing
Microsoft
Milliken
Millipore
MOOG/Quickset
Motorola
NASA
NATO Armed Forces
National Institue for Occupational Safety and Health
National Rehab Hospital
National Museum of Contemporary Art - Athens, Greece
Nellis Air Force Base
Nestle Foods
Nestle Purina
New York University
NGK Spark Plug
Nokia
Northern Natural Gas
Northport Health Services
Northrop Grumman Systems
Norwegian Armed Forces
Novartis Pharmaceuticals
Nunhems
NY Air Brake
Oak Ridge National Laboratory
Ocean Institute
Odyssey Marine Entertainment
Olathe Medical Centers
Olay LLC
Oregon Outdoor Equipment
Pacovis Ag
Parker Hannifan

Partners Healthcare
PCCW Telecom - Hong Kong
Pfizer Corp
Pharmacia
Phelps Dodge Morenci
Philips Medical Systems
Phillip Morris
Pioneer Hi-Bred Int'l
Pitney Bowes
Polaroid
Praxair
Primex
Procter & Gamble USA
Procter & Gamble UK
Provena Health
Purina
Rail Car America
Ralston Foods
RapidPak
Raytheon Missile Systems
Raytheon Systems Company
Remeha BV
Rich Seapak
Robert Bosch
Robert Mann Packaging
Rochling Engineering Plastics
Ronin Capital
Round Mountain Gold
Rowe International
Roxul Wallboard
Royal Alexandria Hospital
Ruddweigh Scale
Saab Systems
Sam Kane Beef
Samson Agro A/S
Sandisk
San Diego Gas & Electric
Saneamiento Y Suministros S.A.
Sargento Foods
Sauter-Cumulus
Schenck AccuRate
Schlumberger
Select Fish
Shell Oil
Shering-Plough
Shetland Catch
Siemens
Silver Hill Hospital
Social Security Department
South Africa Breweries
South Pacific Sera
Southeast Alabama Medical Center
Space Software Italia Spa
Spansion LLC - US Austin
St Agnes Children's Hospital
Stanley Tool
State Farm Insurance
Sterilite
Supergros Grocery Stores
Symbol Technologies, Inc.
Systems and Electronics Inc
Swedish Armed Forces
Tadiran Electronic Systems
Target Stores
TECT-Turbine Engine Components
Tektronix
Teledyne Continental Motors
Thales Missle Electronics Ltd
The Timken Company
Toro
Toronto General Hospital
Tyco Electronics
Uniboard Canada
UniSource Canada
US Air Force
US Army
US Army - Dugway Proving Grounds
US Army Institute of Surgical Research
US Border Patrol
US Bureau of Engraving & Printing
US Department of Agriculture
US Department of Health
US Department of Rehabilitation
US Department of Transportation
US Environmental Protection Agency
US Filter
US Fish & Game
US Geological Survey
US Marshalls Office
US Navy
US Space & Rocket Center
University of Chicago
University of Texas
University of Washington
Valeo Electric
Veterans Hospital
Viewsonic
Vinghog AS
Virginia Department of Rehabilitation
Waitrose Stores UK
Walgreens
Wieland Werks AG
Welches
Wells Fargo Bank
Westmark Industries
Westinghouse Electric
Westport Police Department
Weyerhaeuser Intl
Weyerhauser Corporation
Whole Foods Market
Woods Hole Oceanographic Institute
World Kitchen
Wright Patterson Air Force Base
Zebra Technologies
Zellweger Analytics
And tens of thousands of other corporations, governments, institutions, universities, hospitals, etc., etc.
IMG's Software is used by an ever growing number of new and accomplished Windows users. Because of the many utilities and interface approaches we offer, just about anyone can improve their productivity with IMG Software...
911 Systems
Accountants
Aircraft Systems
Artists
Architects
Assistive Technology
ATM's / Banks
Automation
Building / HVAC controls
CAD designers
Computer Automated Manufacturing
Children
Consumer Kiosks
Data Aquisition
Disabled Users
Doctors / Dentists
Emergency Response personnel
Engineers
Field Service personnel
Fire Fighters
Food Processing
GPS/GIS navigation systems
Graphic Designers
Hospitals
Industrial Controls
Instrumentation
Insurance Agents
InVehicle Systems
Kiosk Developers
Laboratory Systems
Logistics

Machine Vision
Manufacturing
Medical Facilities
Military Systems
Mining
Oil & Gas
On-line browsers
Pharmaceutical Production
Plant Managers
Point of Sale
Police
Power Users
Presentations
Process Control
Programmers
Public Safety Organizations
Public Utilities
Recording Studios
Recreational Users
Repetitive Strain Injury Users
Robotics
Shop Floor / MRP
Simulators
Stock Brokerages
Tablet PC Users
Test & Measurement
Touchscreen Users
Ultra Mobile PC Users
Voting Systems
Warehouse Management / Shipping
Whiteboards
Wireless devices
What people said a century ago...
My-T-Mouse "I can see it would become indispensable for many kinds of Windows work." Brian Livingston, Infoworld
My-T-Mouse "What a great tool for Corel, Ventura, and CAD & Graphics users." Bev Christianson, Int'l Corel Users
OnScreen(formertly My-T-Soft AT) "It seems to be a dream come true!" Disabled user
Users...
"Excellent software"
"Easy to use"
"I Love It!"
"Thanks!"
"Now I can finally use a PC!"
"Great!"
"Wow"
---
---














As seen in ...