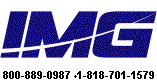 FOR IMMEDIATE RELEASE

Editorial Contacts:


For further information, please contact
Innovation Management Group, Inc.
webmedia@imgpresents.com
Innovation Management Group (IMG) Signs OEM License Agreement with WalkAbout Computers
WalkAbout Computers Integrates My-T-Pen® with Its Ruggedized Pen Tablets
WOODLAND HILLS, Calif., October 22, 2001 -- IMG, the leading supplier of onscreen keyboard utilities to pen and touch-based systems manufacturers, announced today that it has signed an OEM license agreement with WalkAbout Computers, the world leader in ruggedized "pen based" mobile computers. WalkAbout becomes the latest in a series of pen equipment manufacturers to integrate IMG's My-T-Pen product with its systems.
My-T-Pen (My-Typing-Pen Keyboard) offers more than 45 programmable U.S. and international 3D onscreen keyboards and panels. The main focus of the product is for use in pen based systems as an alternative to physical keyboards and membrane panels, such as automation, GIS, wireless, WMS, and other rugged environments. A thin client version for Citrix / MS Terminal Server is available under the My-T-Soft TS name.
The latest release of My-T-Pen also provides full support for Windows 95, 98, Me, NT, 2000 and XP platforms. Prior releases required different products for different Windows versions. This update allows IMG's OEMs and VARs to integrate a single product into their systems, regardless of the Windows platform they choose.
"My-T-Pen provides the perfect complement to the WalkAbout's ruggedized pen tablet. Because it is written at the Windows Kernel level, unlike onscreen keyboards and panels developed in a database, browser, active-x, java, or high-level tools such as Visual Basic, it offers complete control over all Windows functions and provides the ideal 3D 'heads-up display' interface," said Jerry Hussong, IMG's vice president of sales and marketing. "And with Walkabout's strong presence in the marketplace, IMG will benefit from the increased customer exposure and Walkabout's excellent reputation."
The IMG My-T-Pen, My-T-Soft, and My-T-Touch product line offers an unlimited number of programmable macro buttons and panels. The products also work with any serial or PS/2 pointing device, making them equally useful in a wide variety of environments.
My-T-Pen retails for $99.95. Private label and customized versions also are available. Additional information and graphics are available at My-T-Pen.com.
About Innovation Management Group
IMG is the primary supplier of programmable U.S. and international onscreen keyboards, button & panel utilities to pen and touch-based systems manufacturers worldwide. Over 85 percent of IMG's business is through pen and touch based OEMs in automation, assistive technology, data acquisition, emergency response/in-vehicle systems, fleet/naval GPS, HMI, HVAC, instrumentation, Internet appliances, kiosks, machine vision, medical equipment, mobile/military field systems, POS, process control, IR/RF wireless, robotics, simulators, shop floor/MRP, test and measurement, warehouse management, wearable, and whiteboard systems.
About WalkAbout Computers
WalkAbout Computers, Inc. designs and manufactures highly reliable, easy to operate tablet computers used by mobile workers in demanding environments. They enable mobile workers to improve productivity without interfering with established work processes in markets such as utilities, telecommunications, transportation, warehousing, and public safety / EMS. WalkAbout Computers, Inc. is a privately held corporation headquartered in Singer Island, Florida with manufacturing facilities in West Palm Beach, FL. WalkAbout Computers sells its products through certified resellers throughout the US, Canada, Europe, and Australia. Additional information can be found on WalkAbout's Web site at www.walkabout-comp.com.
# # #