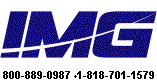 FOR IMMEDIATE RELEASE
March 1, 2001
Woodland Hills, CA - TouchRight Utilities software adds "missing link" to the touchscreen interface.
Innovation Management Group, Inc. announces the release of its TouchRight Utilities for Windows Version 1.20. Responding to the growing touchscreen market, IMG has updated its advanced interface software to address the needs of touchscreen manufacturers, kiosk developers, VAR's, systems integrators, and corporate / commercial / industrial users. TouchRight Utilities is an Onscreen / Tray Button that permits a developer or user to toggle from left to right mouse button functions instantly on any touchscreen or single button pen environment. It provides access to all Right Mouse Button functions and menu's used in Windows 95 / 98 / Me / NT / 2000 that are normally unavailable to the user from the pen or touch interface.
Developers & Systems Administrators can use TouchRight Utilities to develop, implement, and service pen and touch systems without having to attach a mouse and restart the computer.
IMG provides unique & innovative interface software to OEM, corporate, commercial, government, military, and industrial clients who use TouchRight Utilities to reduce development time. Uses include automation; instructional, vending, and informational kiosks; data acquisition; time-card entry / password systems; shop floor / MRP stations; specialized ATMs; CAD/CAM systems; Human Machine Interface; and building, industrial, and process control environments. TouchRight Utilities software works in ANY Windows application. The 1.20 release supports Windows 95 / 98 / Me / NT / 2000. TouchRight Utilities also works in conjunction with IMG's My-T-Pen, My-T-Soft, and My-T-Touch products. It lists for $49.95US. OEM components, custom versions, bundles, network and site licenses are available. Demo's, Literature, and Developers Kits are available from the website: www.imgpresents.com
# # #