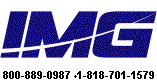 FOR IMMEDIATE RELEASE

Editorial Contacts:


For further information, please contact
Innovation Management Group, Inc.
IMG@imgpresents.com
Philips Medical to offer My-T-Soft TS on its IntelleVue Application Server
CHATSWORTH, CA January 21, 2005 - IMG, the leading supplier of a programmable Onscreen Keyboards utilities, is pleased to announce that it has signed an OEM license agreement with Philips Medical. Under the terms of the agreement Philips Medical will integrate IMG's My-T-Soft TS with it's IntelleVue Application Server.
My-T-Soft TS (terminal server edition), eliminates the need for physical keyboards by being fully programmable, sizable, indestructible, and minimizing space requirements. It can be integrated so that only appear when needed and can be closed when not in use. On a secure network, the keyboard will automatically launch with the login window, so the operator can logon. Tens of thousands of companies worldwide have incorporated IMG software into their systems. We help run some of the most advanced and critical systems in the world!
"IMG's onscreen keyboard utilities are the ideal compliment to hardware and software systems that require user interaction," said Jerry Hussong, IMG's vice president of sales. "We are proud to add Philips Medical to our group of OEM's who integrate our software with their technology."
The My-T-Soft TS product line offers more then 180 programmable, infinitely sizable, US and international 3D onscreen keyboards, (including support for custom layouts created with IMG's Build-A-Board keyboard designer tool), with an unlimited number of macro buttons and panels. The main focus of the product line is for use in pen, tablet, and touch based systems as an alternative to physical keyboards. The latest release provides full support for ALL Windows platforms (Linux coming soon).
My-T-Soft TS also includes a complimentary Developer's Kit. IMG has had numerous requests for a way to control its programs externally without a lot of programming expertise. The Developer's Kit now includes new features & programs requested by our customers. If there is a way to make our product integrate easier and work more efficient for our customers we will go out of our way to make it so.
For more information about IMG and our products, please contact Jerry Hussong - VP of Sales/Marketing by phone 818-701-1579 or e-mail at IMG@imgpresents.com.
For more information about Philips Medical, please contact Steve Kelly – Senior Public Relations Manager, Corporate Communication at 1-425-487-7479 or e-mail at steve.kelly@philips.com.

About Philips
Philips has five product divisions: Consumer Electronics; Domestic Appliances & Personal Care; Lighting; Medical Systems and Semiconductors. Each operates independently, yet coordinates closely in sharing technologies and in developing products for the consumer and business-to-business marketplaces. Under the leadership of the Corporate Center in Amsterdam, this collaboration is required to unlock the full potential of the Philips brand.

About Innovation Management Group, Inc.
IMG has been the primary supplier of programmable US and international onscreen keyboards, button & panel utilities to pen, tablet, and touch based systems manufacturers for over 10 years. Over 85% of IMG's business is through OEM pen, tablet, touch, and other pointing device based hardware & software manufactures worldwide.
# # #