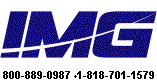 FOR IMMEDIATE RELEASE
August 15, 2001
Innovation Management Group, is pleased to announce a major rewrite of its My-T-Soft® AT, now simply called "Onscreen".
IMG, working in conjunction with RJ Cooper & Associates, has redesigned its My-T-Soft AT program (now called Onscreen), to offer high resolution, infinitely sizeable, 3D keyboards & programmable macro panels, with support for over 45 US & International layouts.
Onscreen's new Key Helper gives the user the option to Zoom over (Magnify), Inverted Highlight over (Reverse Highlight), or Audio / Speak over (Sound or Voice) any Key or Word, before selecting it! Function keys can be remapped for special or hotkey combinations and any key(s) can be "hidden" to create simple layouts for new users.
Macro Buttons & Panels allow the user to associate panels with any application, placing long web addresses, scripts, name and addresses, etc on buttons, so that the panel opens with the associated application and the buttons speed up or simplify redundant tasks.
Onscreen's enhanced Word Complete offers adaptive Word Prediction with a new word List Assistant. The List Assistant includes International Word Lists and supports downloading new lists as they become available. It also offers manual editing, the addition of new words, in batch from any document, and managing and saving multiple word lists on a single computer.
IMG has chosen to take advantage of Microsoft's Text to Speech engine (available in Windows 98 thru XP) by integrated it into Onscreen. This allows users to speak text and phrases by typing, "cut and pasting" into Onscreen's speech window, or highlighting words in WordComplete.
A new TurnAway button pauses headmouse functions, so the user can look away from the display without running the cursor offscreen (works with any headmouse type device).
And, Onscreen has Network Logon built-in, so schools and businesses can maintain security while providing access to Assistive Technology users. Logon includes single and multiple domain support under all Windows environments. IMG's Network Logon is fully Microsoft compliant.
Onscreen is compatible with Windows 95 / 98 / ME / NT / 2000 / XP (optional Citrix / MS Terminal Services "thin client"), all Windows applications, and works with any Mouse, Light Pen, Pen Tablet, Trackball, Touchscreen, or Assistive Technology pointing device. Onscreen is available thru IMG, RJ Cooper & Associates, and other Assistive Technology organizations, resellers, and distributors worldwide.
Onscreen's Suggested Retail is still only $99.95US. A full working demo is available from IMG's website, www.imgpresents.com
# # #