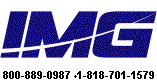 FOR IMMEDIATE RELEASE

Editorial Contacts:


For further information, please contact
Innovation Management Group, Inc.
webmedia@imgpresents.com
IMG announces the release of its My-T-Soft Onscreen Keyboard Utilities Ver 1.75
Woodland Hills, CA, May 17, 2002 - IMG is pleased to announce the release of its My-T-Soft Onscreen Keyboard Utilities Ver 1.75. This release marks a major milestone for IMG with the introduction of 3D Keys and Panels, Infinite Sizing, over 45 Int'l keyboard maps, and support for all pointing (input) devices.
My-T-Soft (My-Typing-Soft Keyboard) offers more than 45 programmable US & International 3D Onscreen Keyboards and Panels. The main focus of this product is for use in systems as an alternative to physical keyboards and membrane panels. However, My-T-Soft also works with any serial or PS/2 pointing device making it equally useful in Automation, Medical Equipment, Whiteboards and a host of other environments. A thin client version for Citrix / MS Terminal Services is available, called My-T-Soft TS (Terminal Server).
The latest release of My-T-Soft also provides full support for Windows 95, 98, Me, NT, 2000, XP and Client/Server platforms. Prior releases required different products for different Windows versions. This update allows IMG's OEM's, VAR's, and Customers to integrate a single product, regardless of the platform.
Developers & System Administrators use IMG products to implement pen or touchscreen based systems without the need for a physical keyboard or membrane, completing the Human Machine Interface. Because My-T-Soft is written at the Windows Kernel level, unlike onscreen keyboards and panels developed in a database, browser, active-x, java, or high level tools such as Visual Basic, it offers complete control over all Windows functions and applications, including Ctrl/Alt/Del, Network Logons, Passwords, ID Authentication, etc. A Developers Kit permits control from API calls or any programming environment.
IMG provides unique & innovative interface software to OEM, corporate, commercial, educational, government, medical, military, and industrial clients worldwide. Applications include Automation, Assistive Technology, Data Acquisition, Emergency Response, Fleet/Naval GPS, Human Machine Interface, Instrumentation, Kiosks, Machine Vision, Medical Equipment, Mobile/Military Field Systems, POS, Process Control, Robotics, Ruggedized, Shop Floor/MRP, Test & Measurement, WMS, Wearable, and Whiteboard systems. The 'heads-up' software controls virtually ALL Windows functions and works with ANY Windows application, in EVERY graphic mode. My-T-Soft retails for $99.95US. OEM, Private Label, and Customized version are available. Additional demo's, information and graphics are available at http://www.mytsoft.com
# # #