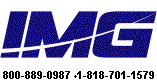 FOR IMMEDIATE RELEASE

Editorial Contacts:


For further information, please contact
Innovation Management Group, Inc.
webmedia@imgpresents.com
IMG Announces Tablet PC Release Of My-T-Pen
The Professionals choice for Onscreen Keyboard Utilities
WOODLAND HILLS, Calif., July 15th, 2003 - IMG, the primary supplier of programmable on-screen keyboards and virtual keyboard developer utilities to automation, military, pen, ruggedized, tablet, touchscreen, wearable, and whiteboard OEM's and Systems Integrators worldwide, announces the Tablet PC release of its My-T-Pen onscreen keyboards utilities.
The latest release of the My-T-Pen (version 1.77) includes added support for over 65 countries, with 88 international code sets, and 180 programmable, infinitely sizeable keyboard layouts. These include new Asian character layouts for Chinese, Japanese, and Korean. IMG has also added enhanced keyboard offerings of both 101 and 104 key keyboard layouts, a transparent "see thru, work thru" keyboard feature, and the ability to inventory and use custom keyboards, macros, and virtual membrane layouts created with IMG's "Build-A-Board" Keyboard Assembler Tool.
With the release of Windows 2k / XP (and mandates such as HIPAA, 21CFR, & ADA), most major pc manufacturers started looking to the onscreen "virtual" keyboard for a dependable user input method, secure login, operator control, audit tracking, and to satisfy customer demands for a reliable and easily integrateable user interface.
They only found one utility that matched their criteria. One company whose products were able to handle the different sizes and resolutions, international layouts, cross application / vendor support, and that could be easily integrated into any existing application, middleware tool, emulator, or high level programming tool.
IMG's onscreen keyboard utilities were written specifically for those needs. Since 1995, IMG's onscreen keyboards and utilities have included a wealth of features and functionality with the ability to integrate into virtually any application or development environment. IMG's program code is written at the same level as the O/S, so its keyboards and macros can be used to logon to networks, control O/S functions, and do everything a physical keyboard (or membrane) does across multiple applications, thru emulators, middleware, and legacy DOS programs (run in a Windows shell). A Developers Application Integration Kit is included, at No Charge.
Tens of thousands of companies worldwide have incorporated IMG software into their systems because of the high level of functionality, versatility, reliability, and compatibility IMG products provide. Whether as part of an automotive, food, chemical, or plant controller, or the interface to an aircraft, rugged military pc, MRI, or fleet GPS system, we help run some of the most highly advanced and critical systems in the world!
IMG provides unique & innovative interface software to major ODM's, OEM's, corporate, commercial, educational, government, medical, military, and industrial clients worldwide. OEM, Private Label, and Customized version are available. Additional demo's, information and graphics are available at www.my-t-pen.com.
About Innovation Management Group
IMG is the primary supplier of programmable, infinitely sizeable, U.S. and International onscreen keyboards and keyboard developer utilities. Its software is recommended, offered, or integrated by all major industrial, military, pen, ruggedized, tablet, touch, wearable, and whiteboard pc systems manufacturers worldwide. Over 90 percent of IMG's sales are licensed through pen, tablet, and touch PC systems OEM/ODM's in automation, assistive technology, data acquisition, emergency response, in-vehicle systems, fleet/naval GPS, HMI, HVAC, instrumentation, Internet appliances, kiosks, machine vision, medical equipment, mobile/military field systems, POS, public safety, process control, robotics, SCADA, simulators, shop floor/MRP, test and measurement, warehouse management, wearable, and whiteboard systems. IMG general information, partners, clients, and product graphics can be found at www.imgpresents.com.
# # #