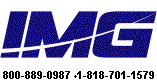 Woodland Hills, CA - Screen Magnifier and Cursor Locator software for Windows addresses the needs of millions of visually impaired computer users.
Innovation Management Group, Inc. is pleased to announce the 1.20 release of The Magnifier for Windows. Responding to user feedback, IMG has added new features and capabilities to its popular Screen Magnifier software, the newest member of IMG's Assistive Technology family.

The Magnifier is a movable, sizable 2x-10x Area Magnifier that requires no additional hardware or software. It can magnify any text or graphics in Windows or any Windows application. The Magnifier window can be sized and located anywhere on the screen. Multiple Magnifiers can be run simultaneously, with up to 7 different configurations. Auto-Position moves the Magnifier away from the cursor position for unobstructed viewing, while the Track-Cursor option moves the Magnifier window along with the cursor pointer to magnify the current pointed-to object. The Lock-Position feature allows the user to always magnify a particular location on the screen. Finally, a full screen "cross-hair" Cursor Locator with animation option is available for users that have difficulty following or locating the cursor as it moves around the screen. All menus are in large sizes for easy reading.

IMG has been providing unique & innovative interface software to OEM, corporate, commercial, educational, government, industrial, medical, and military clients worldwide for over 5 years. Because of its user-interface enhancements, quality, and overall reliability, IMG's Assistive Technology products have been widely accepted by people in the visually and physically challenged community.

The Magnifier retails for only $29.95US. It is compatible with Windows 3.x / 95 / 98, and NT. A working "limited run time" demo is available on IMG's website: www.IMGpresents.com or by calling 800-889-0987.
---