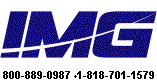 FOR IMMEDIATE RELEASE

Editorial Contacts:


For further information, please contact
Innovation Management Group, Inc.
webmedia@imgpresents.com
Innovation Management Group (IMG) Signs Agreement with Fujitsu-Siemens PC
Fujitsu-Siemens to offer My-T-Pen® on its ST4000 Tablet PC
WOODLAND HILLS, Calif., November 1st, 2002 - IMG, the leading supplier of onscreen keyboard utilities for pen, tablet, and touch based pc systems, announced today that it has signed an OEM license agreement with Fujitsu-Siemens Corporation, a leading provider of pc's in Europe. Under terms of the agreement, Fujitsu-Siemens will integrate IMG's My-T-Pen® programmable Onscreen Keyboard utilities with its new Tablet PC.
Designed as a productivity tool to meet the needs of mobile and corporate workers, the Stylistic® ST4000 Tablet PC runs Microsoft Windows XP Tablet PC Edition operating system and features superior processing power in the thinnest and lightest form factor to date. The unit weighs a mere three pounds, measures less than one inch thick and is equipped with the latest ultra low voltage Mobile Intel® Pentium® III processor. The result will satisfy stringent enterprise demands by offering maximum mobility with uncompromising performance, reliability and battery life.
My-T-Pen simplifies data entry by eliminating the need for an external keyboard. It can be integrated so that keyboards and panels only appear when needed and can be put away when not in use. On a secure network, the keyboard will automatically launch with the login window, so the operator can logon and off as needed.
"IMG's onscreen keyboard utility is an ideal complement to the Stylistic series for a wide variety of business environments, said Jerry Hussong, IMG's vice president of sales. "Fujitsu-Siemens is a leading provider of computing solutions in Europe. IMG benefits from the increased customer exposure and Fujitsu-Siemens excellent reputation."
The My-T-Pen (My-Typing-Pen, Soft or Touch Keyboard) product line offers more than 45 programmable, infinitely sizeable, U.S. and international 3D onscreen keyboards, with an unlimited number of programmable macro buttons and panels. The main focus of the product line is for use in pen, tablet, and touch pc based systems as an alternative to physical keyboards and membrane panels. The latest release provides full support for Windows 95, 98, Me, NT, 2000 and XP platforms (with optional Citrix / MS Terminal Services). Prior releases required different products for different versions.
IMG's products are written at the Windows kernel or services level, unlike an onscreen keyboard or panel developed in a database, browser, Active-X, Java, or high-level tools such as Visual Basic. This allows IMG to offer complete control over all Windows functions and applications, including ctrl/alt/del, network logons and passwords. Security features allow control over the user input.
My-T-Soft, Pen, and Touch retail for $99.95. OEM, private label, and customized versions are available. Additional information and graphics are available at http://www.mytpen.com.
About Fujitsu-Siemens
Fujitsu-Siemens offers everything for enterprise computing, ranging from best-in-class Intel- and Unix-based servers to mainframes and enterprise storage solutions. It is also one of the leading providers of mobile computing products, PC's and workstations to business customers, and is the No. 1 supplier of computers for home users in Europe. For further information, please visit: www.fujitsu-siemens.com.
About Innovation Management Group
IMG is the primary supplier of programmable U.S. and international onscreen keyboards, button & panel utilities to pen, tablet, and touch pc based systems manufacturers worldwide. Over 85 percent of IMG's business is through pen, tablet, and touch pc based OEMs in automation, assistive technology, data acquisition, emergency response, in-vehicle systems, fleet/naval GPS, HMI, HVAC, instrumentation, Internet appliances, kiosks, machine vision, medical equipment, mobile/military field systems, POS, process control, IR/RF wireless, robotics, simulators, shop floor/MRP, test and measurement, warehouse management, wearable, and whiteboard systems. IMG product information can be found at www.imgpresents.com.
# # #