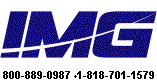 FOR IMMEDIATE RELEASE

Editorial Contacts:


For further information, please contact
Innovation Management Group, Inc.
webmedia@imgpresents.com
Innovation Management Group (IMG) Signs Another OEM License Agreement
Fluke Networks to Use My-T-Touch® with Its Systems
WOODLAND HILLS, Calif., Aug. 31, 2001 -- IMG, the leading supplier of onscreen keyboard utilities to pen and touch-based systems manufacturers, announced today that it has signed an OEM license agreement with Fluke Networks, the leading provider of innovative Network SuperVision Solutions® for insuring reliable data communications and Internet uptime. Fluke Networks becomes the latest in a series of test and measurement equipment manufacturers to integrate IMG's My-T-Touch product with its systems.
My-T-Touch (My-Typing-Touch Keyboard) offers more than 45 programmable U.S. and international 3D onscreen keyboards and panels. The main focus of the product is for use in touch screen based systems as an alternative to physical keyboards and membrane panels, such as automation, kiosks, POS and other environments. A thin client version for Citrix / MS Terminal Server is available under the My-T-Soft TS name.
The latest release of My-T-Touch also provides full support for Windows 95, 98, Me, NT, 2000 and XP platforms. Prior releases required different products for different Windows versions. This update allows IMG's OEMs and VARs to integrate a single product into their systems, regardless of the Windows platform they choose.
"My-T-Touch is provides the perfect complement to the Fluke Network systems. Because it is written at the Windows Kernel level, unlike onscreen keyboards and panels developed in a database, browser, active-x, java, or high-level tools such as Visual Basic, it offers complete control over all Windows functions and applications, including Ctrl/Alt/Del, network logons, passwords and ID authentication," said Jerry Hussong, IMG's vice president of sales and marketing.
The IMG My-T-Touch, My-T-Soft, and My-T-Pen product line offers an unlimited number of programmable macro buttons and panels. The products also work with any serial or PS/2 pointing device, making them equally useful in a wide variety of environments.
My-T-Touch retails for $99.95. Private label and customized versions also are available. Additional information and graphics are available at My-T-Touch Info.
About Innovation Management Group
IMG is the primary supplier of programmable U.S. and international onscreen keyboards, button & panel utilities to pen and touch-based systems manufacturers worldwide. Over 85 percent of IMG's business is through pen and touch based OEMs in automation, assistive technology, data acquisition, emergency response/in-vehicle systems, fleet/naval GPS, HMI, HVAC, instrumentation, Internet appliances, kiosks, machine vision, medical equipment, mobile/military field systems, POS, process control, IR/RF wireless, robotics, simulators, shop floor/MRP, test and measurement, warehouse management, wearable, and whiteboard systems.
About Fluke Networks
Fluke Networks provides award-winning Network SuperVision solutions™ that support the installation, analysis and monitoring of enterprise and telecommunications networks and the installation and certification of the fiber and copper cabling forming the backbone for those networks. Headquartered in Everett, Washington, the company has over 400 employees worldwide and distributes its products in more than 50 countries. Information about Fluke Networks can be found on the Web at www.flukenetworks.com.
# # #
All trademarked products and technologies are the property of their respective owners.
---