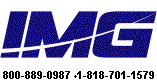 FOR IMMEDIATE RELEASE

Editorial Contacts:


For further information, please contact
Innovation Management Group, Inc.
webmedia@imgpresents.com
Innovation Management Group (IMG) Announces Release Of Its Build-A-Board Developer Tool
Build-A-Board, Onscreen Keyboard developer tool released
WOODLAND HILLS, Calif., March 21st, 2002 - IMG, the leading supplier of onscreen programmable keyboard utilities for industrial, pen, ruggedized, tablet, touch, wearable, and whiteboard pc based systems, announces the release of its Build-A-Board keyboard developer tool, which permits the creation of custom keyboards and membrane panels for us with IMG's popular My-T-Soft product line.
Build-A-Board is a developer tool that permits users to create custom onscreen keyboard, keypad, macro and membrane buttons / panels to replace legacy physical keyboards and membrane panels with programmable "virtual" ones. Users of IMG's My-T-Pen, My-T-Soft, and My-T-Touch keyboard utilities have been asking for a tool to modify existing layouts or create unique custom ones for their applications and operator interfaces. After extensive OEM and user testing, IMG has finally released the product for general use.
Build-A-Board and My-T-Soft are ideal for environments such as ATE, ATM, Automation, CAM, Data Acquisition, Emergency Response, ERP, Fleet & Naval GPS/GIS, Handheld PC, HVAC, Instrumentation, Kiosk, Machine Vision, Medical Equipment, MES, Mobile & Military Field System, PDA, POS, Process Control, Public Safety, Robotic, SCADA, Air/ Naval Simulator, Shop Floor/MRP, Test & Measurement, TimeClock, Vehicle PC, Warehouse Management, and Whiteboards.
The latest releases of Build-A-Board and My-T-Soft offer support for Windows CE, Pocket PC, CE.NET, 95, 98, Me, NT, 2k, XP, XPE, .NET, and the upcoming 2k3 platforms. Thin Client support for Citrix / MS Terminal Services is also available.
IMG products help complete the Human Machine Interface. Because its utilities are written at the Windows Kernel level, unlike other onscreen keyboards developed in a database, browser, active-x, java, or high level tool such as Visual Basic, they offer complete control over all Windows functions and applications, including Ctrl/Alt/Del, Network Logon, DOS PIF's, Passwords, etc. A Developers Integration Kit is included.
IMG provides unique & innovative interface software to major OEM's, corporate, commercial, educational, government, medical, military, and industrial clients worldwide. OEM, Private Label, and Customized version are available. Additional demo's, information and graphics are available at www.build-a-board.com or www.mytsoft.com
About Innovation Management Group
IMG is the primary supplier of programmable, U.S. and international onscreen keyboards, and keyboard developer utilities to industrial, military, pen, ruggedized, tablet, touch, wearable, and whiteboard pc based systems manufacturers worldwide. Over 85 percent of IMG's business is through pen, tablet, and touch PC based system OEM/ODM's in automation, assistive technology, data acquisition, emergency response, in-vehicle systems, fleet/naval GPS, HMI, HVAC, instrumentation, Internet appliances, kiosks, machine vision, medical equipment, mobile/military field systems, POS, process control, robotics, simulators, shop floor/MRP, test and measurement, warehouse management, wearable, and whiteboard systems. IMG general information can be found a www.imgpresents.com.
# # #