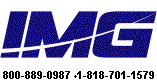 Year 2000 Compliance Information

for

Innovation Management Group, Inc.
Innovation Management Group, Inc. (IMG) is committed to providing full Year 2000 compliance on all products for its customers. IMG products have been designed with year 2000 compliance in mind since IMG's inception, including its first product, My-T-Mouse, introduced at Fall Comdex 1993.
The following IMG products are certified as Year 2000 (Y2K) compliant:
(including all US English and International localized versions)
My-T-Mouse
My-T-Mouse for Kids
My-T-Pen
My-T-Soft AT
My-T-Soft NT
My-T-Touch
Joystick-To-Mouse
The Magnifier
TouchRight Utilities
Statement of Compliance / Summary:
IMG products have no internal date coding and do not process date/time data including, but not limited to, calculating, comparing, and sequencing, from, into, and between the twentieth and twenty-first centuries, the years 1999 and 2000, and leap year calculations.
Since all of IMG products are user-interface enhancements, the usage of dates is non-relevant. Products have been tested during the transition of December 31, 1999 to January 1, 2000 and during the years and leap years greater than 2000.
Because date display capability is built into some of the My-T-Soft family of products, obtaining the date from the underlying system software is required. Therefore, IMG products are compliant with the Year 2000, providing that the underlying Hardware and Windows Operating System / Operating Environment, along with any other information technology in use, also comply with Year 2000 requirements and accurately process date/time data.
Kermit M. Komm, VP Engineering
For Windows Y2K issues, contact Microsoft. For system hardware, contact manufacturer.
---