Purchasing, OEM, Distributor, and Reseller Information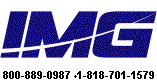 Purchasing Manager / Buyer Information
Credit Application for Net Terms - download, fill out, sign and return
E-Mail, or Mail Credit Application Form
---
OEM, Distributor, or Reseller Pricing
Contact IMG for discounts and establishing OEM, Distributor, or Reseller Status. See Application above.
Discounts are based on a per order / per shipment basis. Software titles can be mixed for volume discounts.
Distributor, OEM Bundle, and Private Labeling inquiries should be directed to IMG OEM Sales.
---
Resellers
A valid copy of the resellers State Resale License / Tax Certificate must be on file at IMG prior to the release of any shipment to a U.S. based OEM, Distributor, or Reseller.
E-Mail, or Mail Reseller / Credit Application Form

PDF Form allows you to enter required information
Print form so you can Sign original
E-Mail or Mail signed form to IMG
Credit checks require 7-21 working days
If requested: E-Mail, or Mail Credit Release Authorization Form

Contact IMG directly for additional information.
---
Product / Company Images
---
---














As seen in ...