IMG Company Policies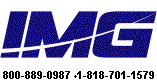 ---
License Agreements
All IMG software is licensed per CPU, workstation, or user. See IMG's Standard License Agreement for details.
Multi-User and/or Site Licensing arrangements are made directly with the end-user or through a recognized reseller of IMG's products. Contact IMG or a local reseller for more information.
---
Customer Information
IMG does not offer, sell, lease, rent, loan, transfer, trade, publish, or provide any customer or prospective customer information (names, addresses, telephone, e-mail, or any other contact information) to third parties for any reason. However, this restriction does not apply to those that use unpaid offerings from IMG, specifically information provided for free Build-A-Board.com based accounts. All information provided to IMG for normal business transactions and end-user registration is considered private and confidential, and will only be used by IMG for normal operations and notification of new versions, updates, technical notes, and/or other information deemed relevant to the customer by IMG.
Privacy Policy
For a full disclosure, please see our Privacy Policy.
---
Reseller Pricing
Requires valid state resale certificate, or other proof of reseller status.
Sales Tax Collection
Sales tax is collected on all retail software and internet sales in states where IMG is considered to have a nexus (as determined by local tax authorities). Exempt entities should make their status known to IMG and on Purchase Orders. All Reseller/OEM sales and licenses are not subject to sales tax collection from IMG. License Agreements and Technology Transfer agreements generally are not treated as taxable items. All Annual Maintenance and Support fees are used to pay for technical support staff to provide on-going support for customers on these programs - no sales taxes are charged for these services, as no tangible good or taxable property is transferred.
---
Return Policy
Because of the nature of software, all software is non-refundable. Special arrangements will be made at IMG's sole discretion.
Product Returns

All returns require a Return Merchandise Authorization (RMA) number. Contact IMG directly for RMA numbers.
All returns are subject to a 20% re-stocking fee.
All returns will credit customer account. Credits can be applied to open, valid invoices, or any product in IMG's current catalog.
---
---














As seen in ...