IMG Divisions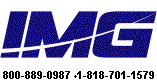 Assistive Technology
Many of our products are used to aid people with disabilities because we have created unique, innovative, and reliable ways to interface with any Windows based PC. From customer suggestions, we have created new products with features designed to assist individuals with special needs. However, no one at IMG has any formal training or experience at making assessments or establishing approaches for dealing with a disabled individual. We are proud & grateful that our products are useful to the Assistive Technology community, but defer questions to qualified parties. For specific questions about an individual's needs, we suggest you contact your local resource center.
Commercial & Industrial
The unique interface technology developed at IMG has wide reaching applications in all aspects of Human Machine Interfaces (HMI/MMI). Because of this and our willingness to customize and work closely with our customers, IMG has been able to provide software solutions with great utility at reasonable prices. IMG's Commercial and Industrial customers operate worldwide. They demand the highest quality from their equipment and software in both their internal systems and on the production line. For all of these reasons and more, IMG has been the only capable choice in Onscreen Keyboards and Pointing Device enhancement utilities.
End User / Consumer
Various products published by IMG are focused towards the general purpose computer user, and there has always been a crossover effect between products focused for particular specialized users and the average end user. IMG continues to listen to the needs and requests of all its customers, and will continue to address areas that are important to all types of users. All products are being standardized in terms of licensing, delivery options (e.g. WEB/CD/DVD/USB/U3), operating support, help/manuals, and various other aspects that benefit all IMG customers and address the expectations of all types of users.
Custom Software Development
The multitude of customized versions of IMG products, special applications of our technologies, and unique OEM projects keep us abreast of new technology, new trends, and the needs of our friends, family, customers, and associates. Feel free to contact us to discuss your innovative ideas.
Research & Development
IMG is involved in many aspects of technology. It is our policy not to announce projects we are involved in (no matter how exciting) until they are released (or never, in the case of many of our OEM and private label relationships) .
Stay tuned for exciting new products from IMG...
---
---














As seen in ...